FKIE Scientist wins Femtec Award
First place in the Femtec Award 2022 for Macarena Varela, scientist at the Fraunhofer Institute for Communication, Information Processing and Ergonomics FKIE. In the category »Innovation« she prevailed in a public voting and accepted the award from Femtec Managing Director Marion Zeßner at the Femtec summer party in Berlin. In the category »Leadership«, Prof. Dr. Angela Ittel, President of the TU Braunschweig, was awarded, and the prize in the category »Social Impact« went to the DokForum of the RWTH Aachen University.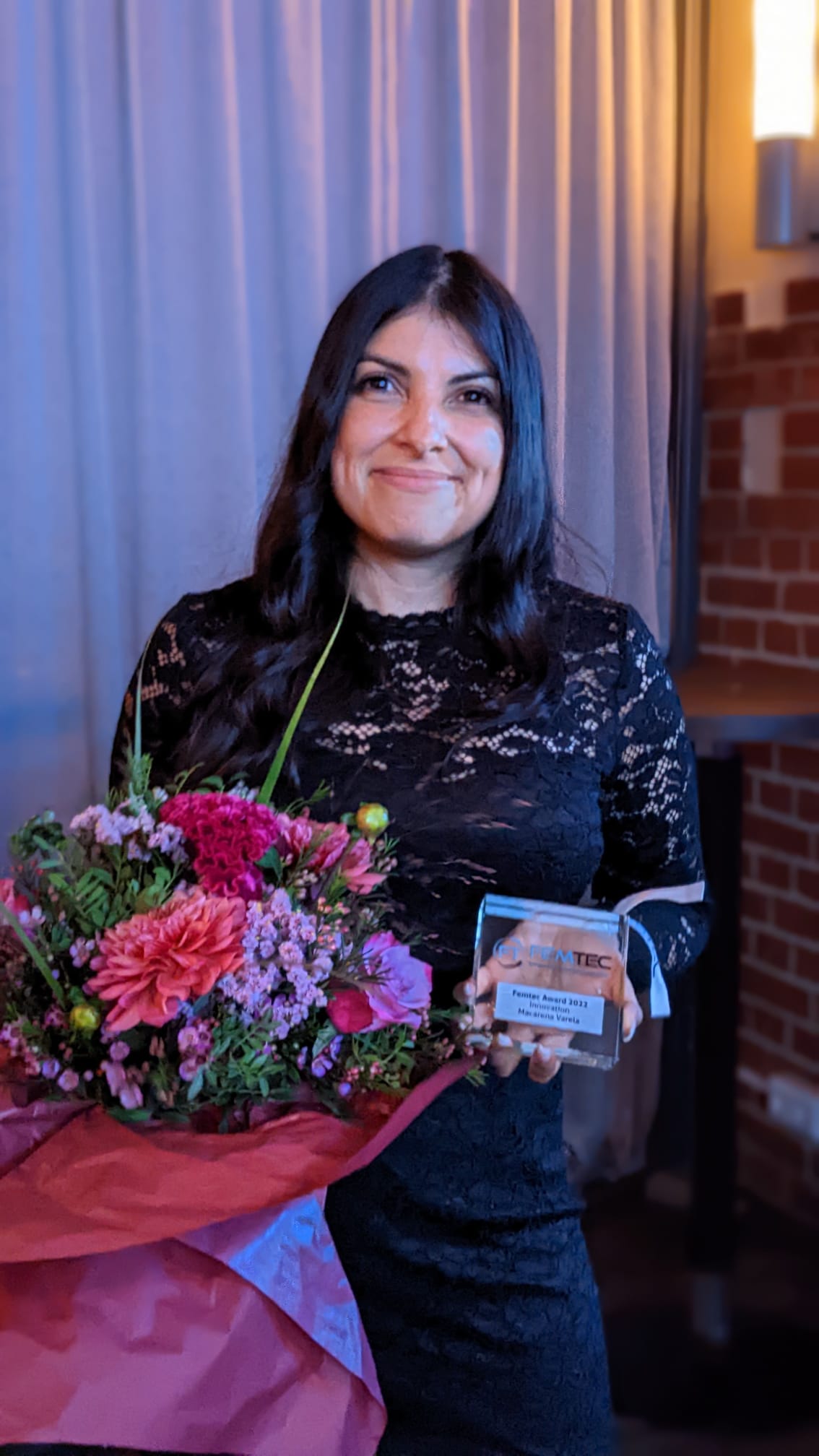 Macarena Varela was awarded the prize for her LUCY system, a microphone array mounted on a drone that helps rescue workers find survivors of a disaster more quickly. LUCY stands for "Listening system Using a Crow's nest arraY" and was developed by Varela together with her colleagues from the department »Sensor Data and Information Fusion«. »Our technology could definitely save lives in the event of a disaster. After all, every minute counts in such situations,« says the FKIE scientist. This is made possible thanks to intelligent algorithms for sensor data fusion and a sophisticated sensor arrangement. She presented her technology for the first time in June 2021 at the online 180th meeting of the »Acoustical Society of America«. This was followed by over 160 press articles and publications in Europe, South Africa, Asia and Australia, including the BBC Science Podcast and the Washington Post.
The Femtec organisation aims to promote female STEM talent and is awarding the prize for the fifth time »for outstanding performance, special commitment and exciting ideas«. In the category »Innovation«, in which Varela took first place, creative visionaries are honoured who initiate change and set impulses in the form of novel products or services. No wonder, then, that Varela received first place: LUCY fills a crucial gap in disaster management.
The award ceremony took place during this year's summer party, to which all Femtec scholarship holders and alumnae were invited. Varela is delighted: »It is great that Femtec supports young women from the STEM sector with career development and scholarships. I'm very honoured to have been voted first place in the Innovation category, especially with two such exciting other candidates!« For the PhD student and mother of two, the award is a great recognition of her many years of research.
On behalf of the entire Institute, Varela's Head of Department Prof. Dr. Wolfgang Koch offered his congratulations: »The word 'engineer' contains the Latin root 'ingenium', which could be translated as 'talent' or even 'genius'. The world urgently needs young, enthusiastic and above all creative engineers like Macarena Varela. They will help us solve the tasks of the present and master the challenges of the future. The Fraunhofer FKIE is proud to offer your talent spaces to develop. Congratulations, Macarena!«