CIMIC Award of Excellence 2021 for Fraunhofer FKIE
A prestigious award for the Fraunhofer Institute for Communication, Information Processing and Ergonomics FKIE: The NATO Civil-Military Cooperation Centre of Excellence (CCOE) has presented the Wachtberg-based institute with the »CIMIC Award of Excellence 2021« in recognition of its extensive efforts to strengthen civil-military cooperation.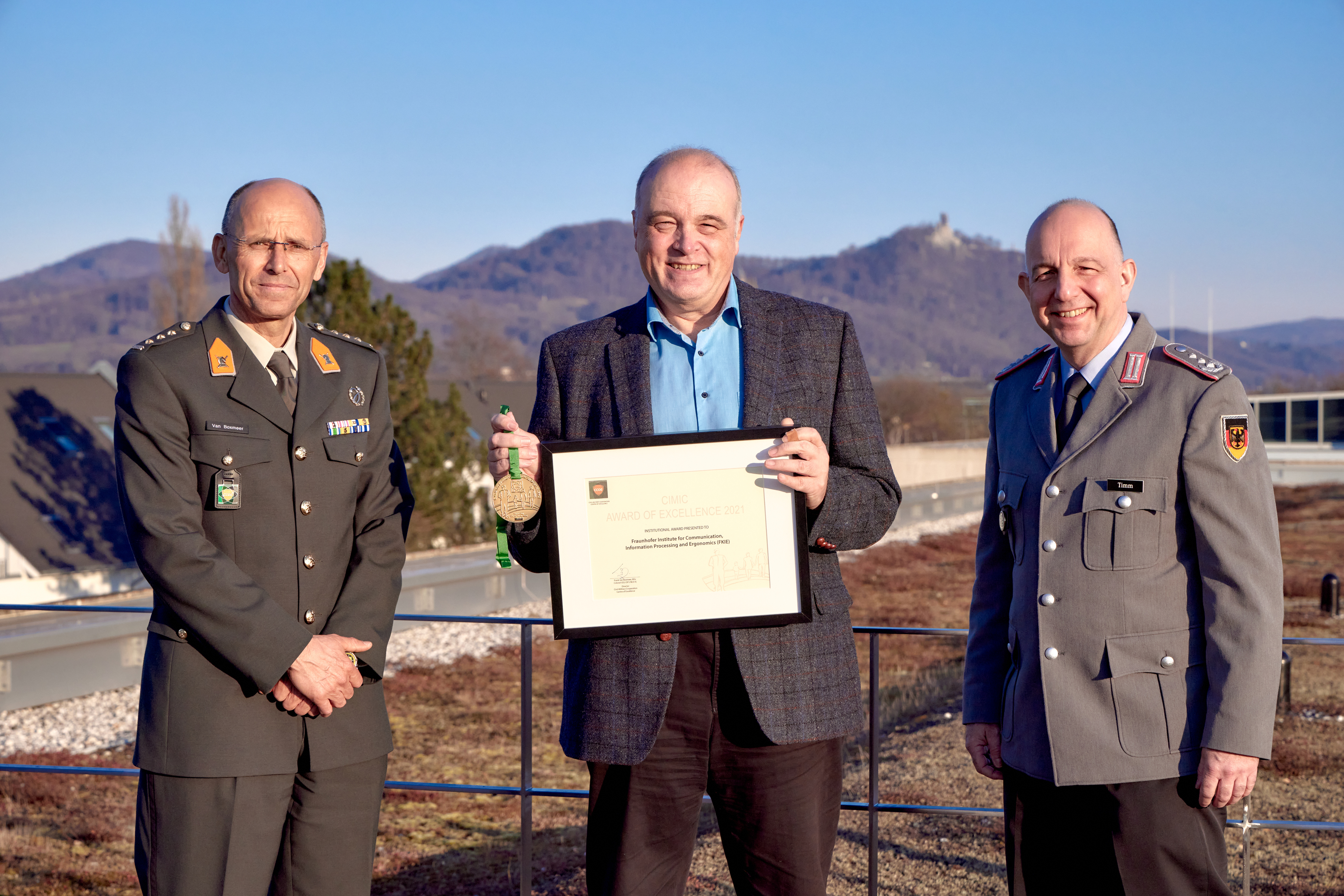 On the occasion of its tenth anniversary in 2017, the CCOE in The Hague launched the »CIMIC Award of Excellence«. Since then, the award has been presented each year to both an individual and an institution for outstanding contributions to civil-military cooperation, both nationally and multinationally. Following a Covid-related break in 2020, Fraunhofer FKIE has now joined the list of awardees, which includes former Croatian President Kolinda Grabar-Kitarović, the city of Nienburg and the civil-military section of the UN organization OCHA.
For years, the FKIE has leveraged its expertise to provide exemplary support to the CIMIC community, according to the CCOE in its award citation. The institute also played a crucial role in developing the CIMIC Information Management Database (CIMD), which enables the Bundeswehr to provide comprehensive, timely information to all operations personnel. In practice, CIMD has already been used in various NATO and CIMIC exercises and has been further developed in line with requirements.
»This collaboration is an outstanding example of civil-military cooperation,« said Colonel Frank van Boxmeer, CCOE Director, and Colonel Andreas Timm, Commander of the Multinational CIMIC Command Nienburg, who presented the award to FKIE Institute Director Professor Dr. Peter Martini. Dr. Martini was honored to receive the award on behalf of his institute and thanked the FKIE-CIMIC team led by Dr. Michael Wunder, Jürgen Kaster, Sascha Huy and Arne Schwarze for their many years of commitment: »In times when societies worldwide are confronted with pandemics and armed conflicts, the importance of civil-military cooperation cannot be overstated, which is why such outstanding collaboration in the field of CIMIC and this award also have a very special significance for me personally.«